So the pistol squat is an interesting beast, in my opinion. It's one of these movements that people see a lot online and want to do because it looks very strong, elegant and cool. A lot of people see it as the sort of pinnacle of bodyweight leg training.
The truth is that the pistol is probably one of the worst strength builders in the bodyweight leg repertoire. Out of all the single leg squat variations out there, it has probably the highest balance, pelvic stability and mobility requirements out there. This means that the scope there is to progressively overload the movement is massively hamstrung, because the weak link preventing you from progressing will be one of the above factors 90% of the time, not your leg strength. You don't want that in your bread and butter strength movements. In that respect, the pistol is more of an artful skill than a strength exercise in my opinion.
By all means, the pistol is definitely a very aesthetically cool movement, though. And a lot of people will still want to do one nonetheless. I'm not going to go into the process of how to train to achieve your first pistol in this guide for now (I may update it later) but I will cover one major point that I consider to be pretty integral to the aesthetics and structural stability of the movement.
Pre-requisites:
You should be able to stand and lift your leg straight out 90 degrees in front of you. A mix of practice and good hamstring mobility will be key here. The more ankle and hip mobility you have, the better, so I would say you should be able to comfortably sit in a barefoot deep squat with a fairly upright torso position for a few minutes too.
Additionally, I'd recommend that you have a solid level of competency in all of the other single leg bodyweight squats before you try this. So sets of deep step-downs, level 3 shrimp squats, etc. should all be very easily doable for you. It will ensure that strength is not the limiting factor here, and you can focus on the balance, alignment, technique and aesthetics.
Start Position:
The start of the movement is standing with one leg extended in front of you. Keep the knee locked and do your best toe point. In the following video I have my foot only barely trailing above the floor, but if you are going for maximum aesthetics, the higher you can get it to parallel the better.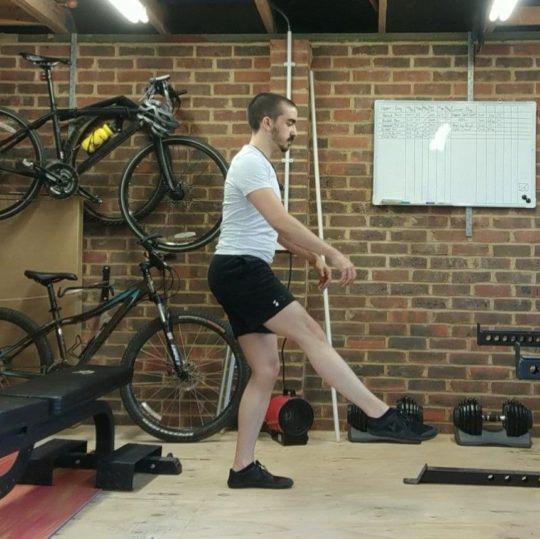 Movement:
From here you are going to squat down while trying to keep your front leg as high as possible, and drop to the full deep squat position where your hamstrings touch the backs of your calves, pause for a moment, then stand back up. I'd strongly advise against bouncing out of the bottom of pistols as a habit. Not only because it's ugly and ruins your positioning in what is a primarily aesthetic movement, but because its also a bit needlessly aggressive to your knees and for some can elicit a bit of knee compression pain if you over-do it or have tight quads.
End Position:
So this is the meat of this guide, and where, in my opinion, a majority of people go wrong with the pistol squat. And a lot of that comes down to only ever looking at the pistol from the side: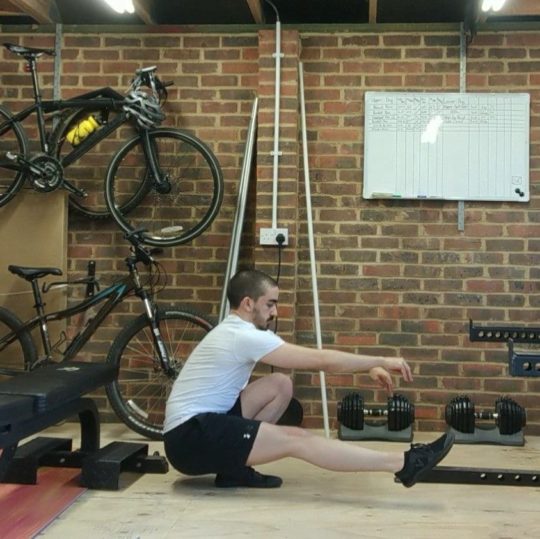 A key component for both knee-happiness and also aesthetics, is proper pelvic alignment. From a front view you will want to make sure that your pelvis is more or less parallel with the floor. This will keep your knees in good alignment (as valgus is very common and so, so easy to do, when doing pistols) as they would in a normal squat.
Lets compare these two pistols a little more closely.
In the top example, the pelvis is not stable, which throws the shoulders off similarly. This results in the knee needing to track inwards relative to the hip socket in order to maintain balance. This is a much less strong and stable position for the knee to be in. In the bottom example, the pelvis is stable and so both the pelvis and the shoulders are (more or less) parallel with the floor, and the knee is vertically over the hip socket.
Typically an inability to do this outside of having insufficient strength or mobility to do a pistol, is poorly coordinated glute med. It's a corollary of the mis-coordination that causes things such as the 'trendelenburg gait', it essentially means your glute med is not doing its job well enough in the pistol, and may need some conscious attention in the movement. Or it might be a signal that this happens in more than simply this circumstance and it would be worth looking into your glute med coordination in a variety of different walking and standing postures. But that's outside the scope of this guide.
---
---
Support the Creator!
---
I make all this content for free because I want to help people as much as I can, and want to make fitness as accessible and easy to understand as possible, I wouldn't think of charging for any of what you see here, but running this site (and being alive!) has some costs associated with it! I've never liked the idea of littering my website with ads, so I have been keeping the site ad free for as long as I've been running it. However, that means that even though the website gets fairly high traffic, it doesn't make any money on its own!
While I dont have a patreon or other methods of flat out donation, if you like this content a lot, want to keep the site ad-free, and want to say thanks to the person that made it (me!), I do have a premium exercise library hosted on this site that you can subscribe to for only £5 per month. If you do decide to sign up, it'd be even better for you than donating anyway, because you get some nice premium content as well!