The Shrimp Squat, like the Pistol Squat, is one of the single leg bodyweight squat variations that I would not typically recommend for basic over-all strength building. They are however particularly impressive demonstrations of the application of your leg strength to a task that requires a pretty considerable degree of mobility, balance and skill. As such, these can be particularly fun to learn for the athlete that wants to continue to progress in their leg training after they've pulled all the gains they can out of the more strength focused variations that can be more easily progessively overloaded (Bulgarian Split Squats and Stepdowns). You will find that often the weak link in performing both the shrimp and the pistol if you have the requisite strength, is going to be your mobility.
Pre-requisites:
You should be comfortably able to perform sets of 5-8 reps of narrow stance split squats, bulgarian split squats and/or heel-touch stepdowns from a knee high surface before trying these.
Also lets say if you have particularly tight quads ankles, you won't expect to progress through the levels particularly quickly. It's recommended that you do some appropriate mobility work concurrently with training these if you aren't already mobile enough
The 3 Levels:
Level 1:
Level 2:
Level 3:
Start Position:
All levels start in the same position. Standing on one leg. For level 1, this is just with the back leg bent a bit, level 2 bent past 90 degrees, and level 3 you are holding your ankle to your butt.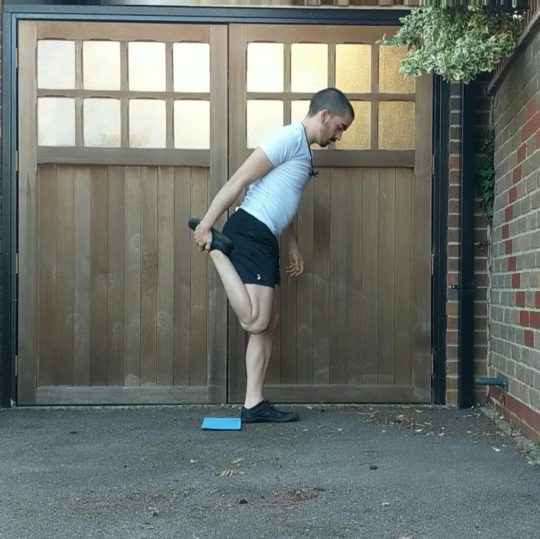 Movement:
From here you are simply going to squat until your back knee touches the ground, keeping tension in the front leg, then come back up. In this 'level 3' variation, you may find you need to gently rock forward to get your centre of mass in the right spot, but take care to ensure the rocking isnt too aggressive;
End Position:
The key the end position to stay balanced is that the back knee should land very close to the heel of the front foot, to ensure that your weight can stay over your foot and you do not have to rock forward aggressively to start the next rep. It may not be apparently necessary in level 1, but by the time you are holding your back ankle with one or both of your hands, it will become very apparent.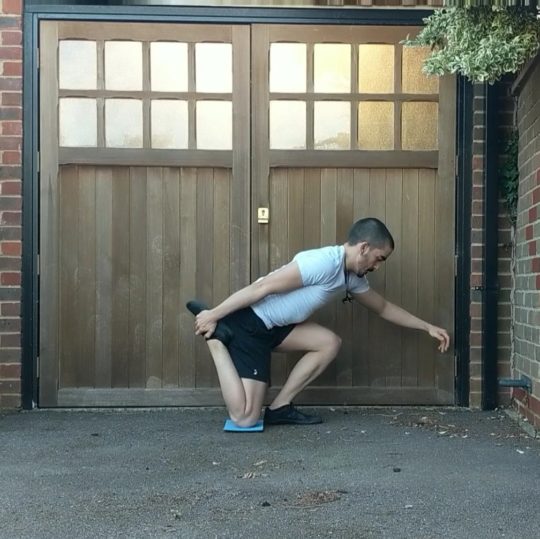 ---
---
Support the Creator!
---
I make all this content for free because I want to help people as much as I can, and want to make fitness as accessible and easy to understand as possible, I wouldn't think of charging for any of what you see here, but running this site (and being alive!) has some costs associated with it! I've never liked the idea of littering my website with ads, so I have been keeping the site ad free for as long as I've been running it. However, that means that even though the website gets fairly high traffic, it doesn't make any money on its own!
While I dont have a patreon or other methods of flat out donation, if you like this content a lot, want to keep the site ad-free, and want to say thanks to the person that made it (me!), I do have a premium exercise library hosted on this site that you can subscribe to for only £5 per month. If you do decide to sign up, it'd be even better for you than donating anyway, because you get some nice premium content as well!