Bulgarian Split Squats (Referred to as a BSS for the rest of this guide), or 'Rear Foot Elevated Split Squats' are in my opinion one of the two best single leg progressions for the bodyweight squat, the other being the 'Box Stepdown'. The reason being that both of these exercises are very easily scalable with both depth and easily adding weight, and also have very low specific mobility prerequisites to perform (unlike the Pistol Squat or Shrimp Squat, which comparatively require much more mobility and balance to even perform, much less load heavier or progress).
Prerequisites:
Before doing the Bulgarian Split Squat, you should be very familiar with body weight squats. If you struggle particularly with balance, you may want to become comfortable with lunges and basic split squats.
Start Position:
The easiest way to ensure a good BSS is to start at the bottom, to ensure everything is aligned well. For a 'standard' BSS this is a how I would coach a good start position: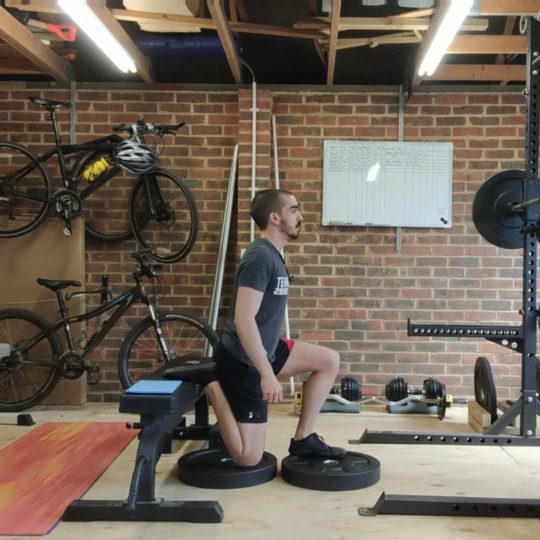 Key Points:
Crook of the ankle is nestled into the corner of the surface your back leg is elevated on
Knee is resting on the ground (For some surfaces if it is too tall, you may need to elevate your foot and knee to achieve this, as shown in the photo.)
Chest is lifted and neck is aligned with your spine or looking straight ahead
Shin is vertical or pointing very *slightly* back
Movement:
The key to the movement is in two main cues:
Keep the chest lifted
Keep your weight over the front leg
Then simply stand up.
End Position:
The end position should look and feel the same as standing straight up but with your back foot resting on a bench behind you.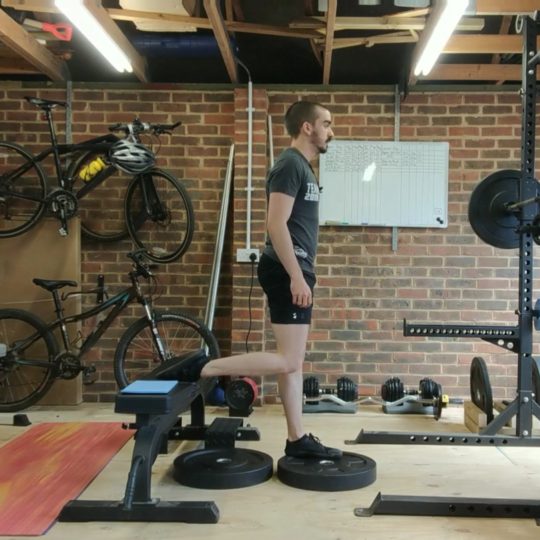 Variations in Form:
The big area of variation in a BSS is foot placement and/or torso angle. A more upright torso and/or closer foot placement will bias the quads much more. This is much more akin to a single leg squat. A more leant over position/further foot placement will bias the glutes (and hamstrings) more, akin to a lunge.
Bent Over Variation:
Upright Variation:
Common Errors:
The ABSOLUTE MOST common error I see in the BSS is starting from a standing position. The reason I refer to this as an error is because it essentially precludes you from establishing a good foot placement distance and posture in the bottom position.
By starting at the top you are essentially guessing that your bottom position will 'probably be good enough'. However 90% of the time this leads to lowerings yourself down, fiddling with foot placement, and wasting 20-30 seconds before each set trying to get into a good position. Additionally, starting at the bottom allows you to determine if the bench is too tall or short and needs to have adjustments made to put you in a good position.
Progression:
Aside from the obvious option to add weight to the movement (in the form of dumbbells, barbell, backpack full of weight, holding something in your hands), a great way to progress these is with depth.
By further elevating the front leg, you can massively increase the difficulty of these, until you are doing the equivalent of a deep, or "ass to grass" squat.
General Tips:
Even if you have very strong legs, or have been barbell squatting for a long time, if you do not have a lot of experience with unilateral leg exercises, strongly consider starting completely unweighted with BSS and build up the weight over time. They're notoriously tricky to balance at first, but once you've got them down and stopped wiggling and waving all over the place, feel free to load them up as heavy as you like, either dumbbells in hand, backpack on, or with a barbell.
---
---
Support the Creator!
---
I make a lot of my content for free because I want to help people as much as I can, and want to make fitness as accessible and easy to understand as possible, I wouldn't think of charging for any of what you see here, but running this site (and being alive!) has some costs associated with it!
If you like this content a lot, want to keep the site ad-free, and want to say thanks to the person that made it (me!), you can send me a one-off or monthly tip on Ko-fi here! Also, I have a premium exercise library hosted on this site with currently over 150 exercises in it that you can subscribe to for only £5 per month. If you do decide to sign up, it'd be even better for you than donating anyway, because you get some nice premium content as well!