How to do Push-ups
The push-up is one of the most fundamental upper body strength training movements in bodyweight training (along with the pull-up, row, and pike pushup or dip). That's why it is the very first exercise you learn in my BWF Primer routine (A free routine for total beginners to exercise that's meant to give you a slow introduction to fitness, that starts with just one exercise on day one and builds up to the full routine over 14 days).
Many people falsely conflate the fact that the push-up is a 'basic' exercise with the idea that they are very easy. As a result most people do not pay close attention to their form, and consequently do push-ups in a flawed way that both increases joint strain and also makes them much less effective at loading the chest, triceps and shoulders. This guide is an attempt to:
Comprehensively lay-out the proper form for push-ups

Explain what to do if you cannot do a push-up yet

Outline some of the most common form errors in the push-up that you may come across
Important Note:
From the perspective of getting the most out of this guide, it would be in your best interest to film yourself from the side doing a few reps, and watch them back as you read this guide in order to get a frame of reference, and see which parts of the guide are most helpful for you. (Don't worry if you don't have a tripod to frame yourself up, you can just prop your phone against something and use the front facing camera to frame where you will be standing.)
Also the following summary of this exercise is described in about AS MUCH DETAIL AS POSSIBLE. If this is your first time learning about this exercise, this may feel like an overwhelming amount of information to you to begin with. Do not worry, this guide is so detailed simply because it is a reference guide, and not everything needs to be absorbed and perfectly replicated on your very first read through. You will most likely come back to read this guide many many times as you learn.
Similarly, if this is your first time learning about this exercise, you may not be able to perform a full push-up on the floor yet. Do not worry, later in the guide there is detail on how to modify the push-up to make it easier (titled: 'How to Build Up To a Push-up if You Can't Yet Do One), and the principles of form outlined below are applicable to any variation of push-up nonetheless.
---
Summary:
The Start Position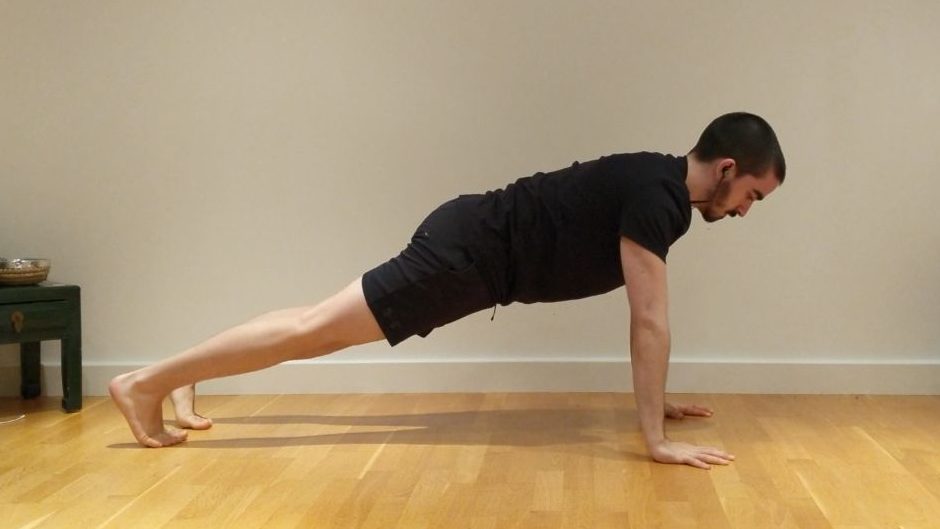 The Movement
The End Position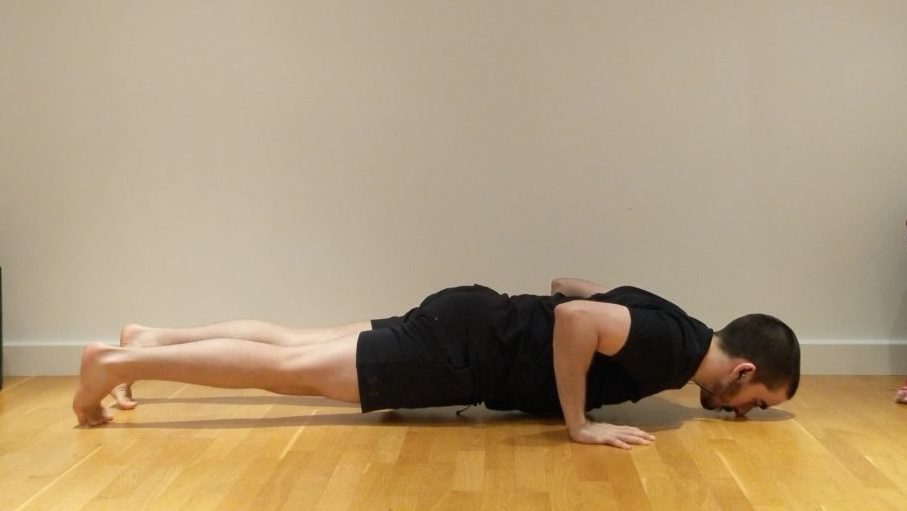 ---
Start Position: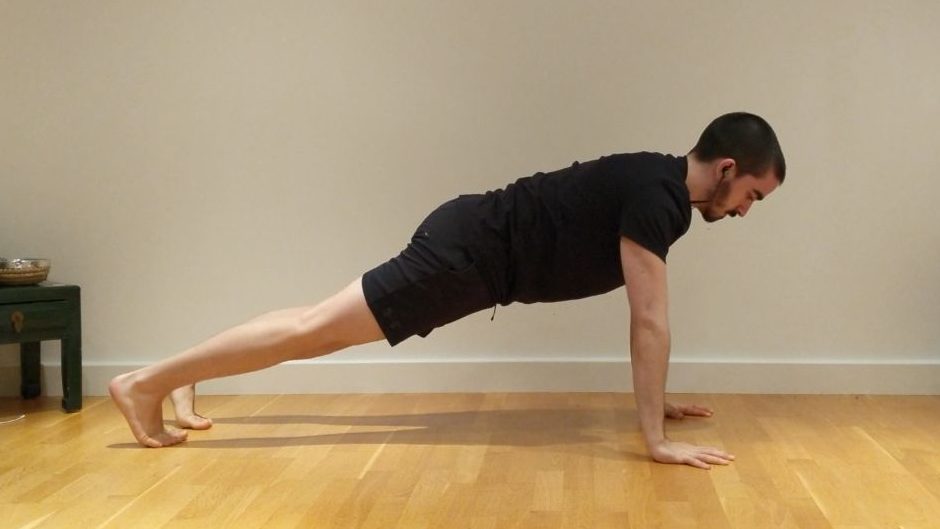 Chin Tucked so neck is aligned with rest of spine
Upper back extended (think about pushing your sternum forward) and ribs down
Shoulders pushed away from the ears (depressed) and slightly into the ground (protracted)
Hands slightly wider than shoulder width, fingers spread, middle fingers parallel to eachother, elbows straight
Lower back flat (slight posterior pelvic tilt) and legs in line with torso (hip extension)
---
Movement:
(1) Radial Shoulder Movement: As you can see, if you stuck a marker on the shoulder, it would draw a trace like a quarter of a circle, because the upper arm is rotating around the elbow, which is fixed.
(2) Vertical Forearm: This will come with point 1. If you are leading the movement with the shoulder, your forearm will not drift back. If it does, it puts more force on the elbow (which your elbow will not like once you start loading weight onto it). This, along with point 1, will make sure your thumbs are in line with the bottom of your chest at the bottom.
(3) Ankle Rock: This is what allows you to lead the movement with your shoulder without breaking bodyline. As you come down, point your toes a bit, it will send your body forward.
---
End Position: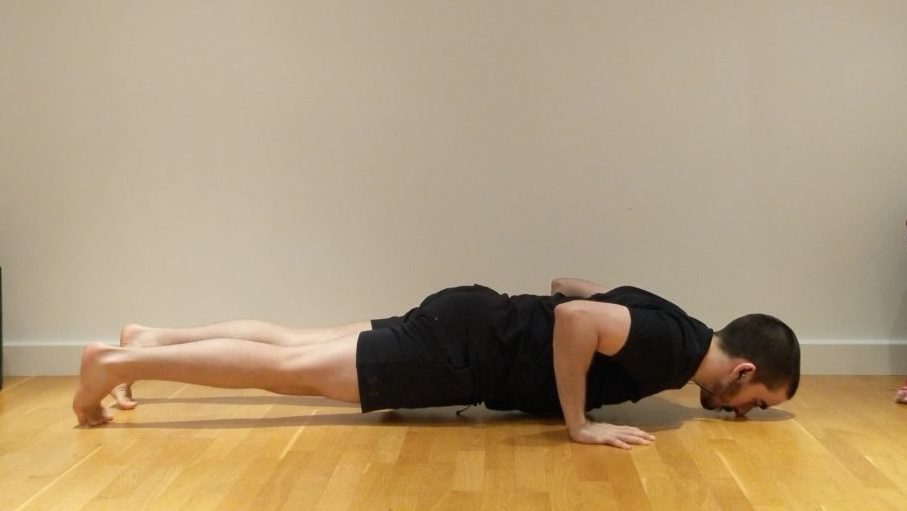 Bodyline: Butt should not be sticking up. Nice straight line from head to heel.
Shoulder Position: Shoulders pushed down and pinched together like you're trying to hold a penny between your shoulder blades. Down AND pinched is the key. Don't let your shoulders shrug up in order to pinch them. (If they do, reference the 'Shoulder caving' compensation mentioned below)
Depth: Chest to ground.
---
How to Build Up to a Full Push-Up if You Can't Yet Do One:
So now that we've outlined the ideal push-up on the floor, that's great for those who have the strength to do it. But what if you can't do it? Maybe you thought you could do them, but now that you're trying with proper form they're too hard! Or maybe you came to this guide knowing for certain you can't do one. The solution is Incline Push-ups.
The Incline Push-up works by putting your hands on a surface that is higher than your feet. Usually a countertop, table, sturdy chair, bench, bar, etc.
By doing so, more of your weight is shifted on your feet than your hands, so the amount of weight you are pushing is much less the higher your hands are.
This means all you have to do is find a surface that is high enough that you can manage to do a few reps of push-ups on with good form, and then as you get stronger you move on to lower and lower surfaces until you are on the floor!
The highest surface you can try is about chest/rib height. For most people starting from a low level of strength, something like a kitchen counter is a good starting point.
Incline Push-up Set up:
You should be able to follow the form tips for the standard push-up on the floor for the incline pushup, with one slight modification. Instead of forearms vertical, your forearms will simply be perpendicular to your body. Sound confusing? Sound like it'd be hard to check visually? Don't worry! There's an easy trick to make sure you are always doing this right.
Place your hands on the inclined surface so that the heel/bottom half of your palm is in contact with the corner of the surface (not placing your palms flat on the surface). You are going to set yourself up at the bottom of the rep, so that your body is straight from head to heel and the surface of the corner you are grabbing is contacting your body just below your pecs. For people with breasts, this will be more or less around the bottom band of a sports bra. You can fully rest your chest on the surface here as you are setting up.
If you set up at the bottom like this, and return to this position every rep, you will naturally be assuming the equivalent of the forearms vertical position.
(Note: with regards to hand placement, the heel of your hand should be in contact with the corner of the surface, and your thumbs should be on the flat top of the surface; do not tuck your thumb around the edge. Shown below:)

---
Common Compensations:
Here are some very common ways that people lose position in the push-up, due to lack of technique, or due to weakness and trying to do a progression that is too hard for them.
---
Hip Sag in the Push-up:
Why does this happen?
You may not be engaging your abs sufficiently, so the movement is coming from the 'path of least resistance', which is extending at the spine to reduce the leverage on your arms.
Drills to help fix:
More practice
Work on bracing strength with dead bugs
Apply the brace to the plank
Work on an easier progression until you can keep the brace all the way through the movement
---
Chicken Necking in the Push-up
Looking at the above videos, notice how far my body is off the ground on the left, even though my nose is on the ground because my neck is jutted so far forwards. Conversely, on the right my nose and chest approach the ground at roughly the same time.
Why does this happen?
You are subconsciously trying to limit the ROM because you are using the cue 'nose to ground' so if you extend your neck, your nose touches the ground sooner in the movement.
Drills to help fix:
Stop using 'nose to ground', use 'chest to ground'
Do an easier progression that you can complete the full ROM of without chicken necking
Over-exaggerate a tucked 'double chin' position for a while until you get used to the movement, then move to a neutral neck
---
High Hips in the Push-up
Why does this happen?
You haven't learned how to extend at the hip in the pushup, or the bottom of the pushup is too hard for you, so you lift your hips to limit the range of motion subconsciously.
You may also be over-compensating to prevent hip-sagging.
Drills to help fix:
Bottom push-up holds
Film yourself doing pushups and figure out what it feels like to be in the right position vs wrong position
---
Shoulder 'Rolling' in the Push-up
If you imagine the upper arm like an arrow, you will see the difference between these two easily. If your shoulders roll forward, your upper arms will point towards the ground, whereas they should be pointing up to your head.
Why does this happen?
There are two main reasons in my experience.
You can't set your shoulder properly
You are over 'tucking' your elbows because you used to do the T-pushup and are over-exaggerating in the other direction
How do I fix it?
Improve your lower trap strength
Exaggerate the shoulder setting process (roll the shoulders back and then down) and squeeze hard
Stop over-tucking your elbows to your sides
Pick an easier progression that you can do without shoulder caving
---
Frequently asked questions:
I read that I should do wall push-ups if I can't do incline pushups, right?
Wall push-ups aren't great because the wall gets in the way of your face, which limits ROM. Better to get the same effect is to do an incline pushup on the corner of a surface that is just a few inches below chest height, so you can do full ROM
Can I do knee push-ups instead of incline pushups?
You can, but they won't be as effective as incline pushups due to the sensitive scalability of the incline pushup, as well as the specificity to the bodyline of the standard pushup. The knee push-up may get you the strength you need to get a pushup but due to the positioning, it is likely to cause you to exhibit the booty push-up fault mentioned earlier in the article.
I don't feel push-ups in my chest/triceps/shoulders. Am I doing them wrong?
Maybe. But if you aren't, it is not a problem if you don't feel them in the area you want. The weak link in the chain is always what you will feel first, and what will limit your performance. Here's an example.
Perhaps you want to get a big chest, so you do push-ups. Your chest is pretty strong, and your anterior deltoid is very weak. You do push-ups, and you can do 10 reps, but the thing that really burns and stops you from doing 11, 12 or more reps, is your delts get too weak to push you up. You feel a huge pump in your deltoids, but nothing in your chest. That's not because you aren't doing them in a way that your chest is being worked, but rather because your delts are proportionally weaker, so need to catch up before the push-up will stress your chest to any meaningful degree. Don't skip out on strengthening your body proportionally because you are obsessed with [insert muscle] development. Your delts will catch up, and then your chest will grow. Be patient.
All of this detail seems stupid, can't I just do push-ups the way I want?
Sure. I'm not the push-up police. Do whatever you want!
My wrists hurt when I do push-ups. How can I fix this?
You may have weak wrists and would benefit from a thorough wrist warm-up before doing any wrist loading activities like push-ups.
If you want to keep doing push-ups with hurt wrists, you can always get low paralettes or 'push-up bars'. You can also change your hand position or do them on your fists. Whatever doesn't aggravate the injury.
Are wide push-ups better for chest development?
No. They are good for very little. If you set your shoulder properly and don't 'T' your pushup, you can do them safely, but why would you? A harder pushup progression, or a weighted push-up will get you where you want better.
What push-up is the best for chest development?
The hardest one you can do with good form. Also, weighted ring push-ups.
Is 100/200/300/etc. Push-ups a day a good workout?
No. If that is all you are doing, you will develop imbalances that puts your shoulder in a fragile and injury prone state. You need to balance push and pull exercises. Also, doing that many push-ups will only make you good at doing push-ups. It won't really help muscle size, strength, etc.
Can I do push-ups with my hands sideways/backwards?
Yes.
Can I do push-ups on my fists?
Also yes.
Why do I need to go all the way down?
Full Range of motion = Better strength and muscle gains. Partial reps have their place but shouldn't be the standard.
Are push-ups or dips better?
Apples and Oranges. Ideally, do both.
Are push-ups or bench press better?
Depends on your goal. If you want to be good at bench, do bench. If you want to be good at push-ups, do push-ups. On the other hand, If you want to push heavy weight and don't have anyway to micro-load your push-up, do bench. But, If you do have a way to micro-load your pushup, do whichever one you prefer. Simple stuff.
---
---
Support the Creator!
---
I make a lot of my content for free because I want to help people as much as I can, and want to make fitness as accessible and easy to understand as possible, I wouldn't think of charging for any of what you see here, but running this site (and being alive!) has some costs associated with it!
If you like this content a lot, want to keep the site ad-free, and want to say thanks to the person that made it (me!), you can send me a one-off or monthly tip on Ko-fi here! Also, I have a premium exercise library hosted on this site with currently over 150 exercises in it that you can subscribe to for only £5 per month. If you do decide to sign up, it'd be even better for you than donating anyway, because you get some nice premium content as well!